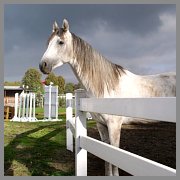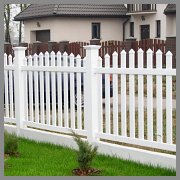 Royal Fencing is a system of fences made of high impact resistant PVC. The plastic tanks we are using are of special improving components features exceptional durability of colour, resistance to UV radiation exposure and extreme temperature exposure.

Fences made of Royal Fencing components do not rot like wood and do not rust like metal, they do not require labour consuming and expensive maintenance. These are the newest generation fences providing perfect whiteness and excellent appearance for many years.

The present offer includes several patterns of white fence sections, gates, however soon the assortment shall be extended by balustrade, pergola, summer-house, umbrella-roofed houses; the colour offer shall be extended.

Advantages of Royal Fencing
no need to paint, impregnate or use of anti-corrosion agents

easy to keep clean

exceptional durability of colour due to use of special stabilizing agents

resistance to UV radiation and extreme temperature exposure

decoration variety of finish components

rich selection of kinds and styles of fences

easy and fast assembly (even without assistance of professional building companies)

---
Copyright (c) 2004 R.S.L. Alle Rechte vorbehalten.